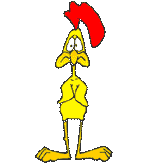 Back by popular demand!!! Dominion's biggest fan.(the dancing chicken) Since we took it off our web site, we have recieved a lot of request to put it back on line with us!
Dominion Revelation 1:6 is a Spirit Filled Christian Heavy Metal band located in Central Oregon. It is our goal to introduce people to a relationship with Gods only begotten Son. We do not want to introduce the world to a religion. We believe in the true basis of Christian Fellowship...God's love. We invite you to come or go to a church, to learn through Bible studies of what God has done for you, as well as what He wants to do in your life. COME EXPERIANCE THE TRUE ESSANCE OF POWERE WITH US!!! Allow the Holy Spirit to provide you direction and discernment.

We would like to encourage you to deepen your life by corresponding in the word. 2Chronicals 7:14 "If My people who are called by My name will humble themselves, and Pray and Seek My face, and Turn from their wicked ways, then I will hear from Heaven, and will forgive their sin and heal their land." God wants our lives to go well...Today, let's start talking and thinking, and acting right. There is Sanctity to human life. Phillipians 3:13-14 You are responsible for your own Spiritual Maturity and Freedom.